Caran D'Ache Pablo Colored Pencils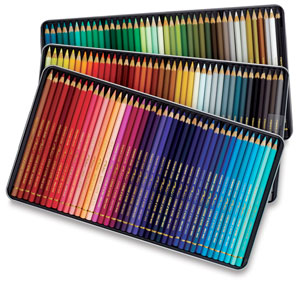 All my pieces consist of a combination of various brands but for flesh tones I prefer the Caran D'Ache Pablo colored pencil range, where colors like Brownish Orange, Vandycke Brown, Beige and Creme will greatly enhance your portrait work, and of course the totally unique Brownish Beige! Buy yourself several of this color at once, as you will find yourself going back to this color again and again.
The consistency of this pencil is firm but smooth and creamy to apply at the same time, offering great lightfastness. Encased in cedar wood and water resistant, these are not grainy and build layers perfectly. Having said that, don't overdo the layering. No more than about 4 or 5 layers are needed to achieve the desired colour, any overworking will make the work look heavy and dull in my opinion. Keep it fresh, you are working with coloured pencils, not oil paint.
Because these pencils are a bit harder than Coloursoft or Luminance pencils, they are extremely well suited to sanded supports such as Ampersand or Pastelmat, enabling precision detailing and building up rich colors on those kinds of surfaces. Work great of softer supports like Stonehenge as well, an all round fantastic pencil that also does not roll away thanks to its hexagonal shape :-)
The Caran D'Ache Pablo range is available in sets of 12, 18, 30, 40, 80 and 120 in both a metal and beautiful wooden case, and open stock pencils are also available. Click on the Pablo pencil set box for more information and how to order.